ALUMNI NEWS
Rev. Dr. Marilyn (Broome) Bennett who received her MDiv from ABSW in 2003 and her DMin from ABSW and Bakke Graduate University in Seattle in 2010 received a grant from The Heidi Lynn Fuller Ministry Support Fund to continue her research in Transformational Leadership by interviewing over 100 ABC pastors of urban congregations. She also hopes her face to face interview will be an encouragement to pastors who daily confront unique challenges in an ethnically diverse urban environment.
The Reverend Heidi Lynn Fuller (May 1, 1951—July 17, 1996) was a preacher, teacher, pastor, untiring disciple of Jesus Christ, and witness to God's love for humankind. In the midst of her vital ministry, Heidi died from ovarian cancer. Family and friends have established this endowed fund in her honor. Investments are managed by the American Baptist Foundation.
---
Curtis Price (2000), currently pastor of the the First Baptist Church of Salt Lake City, Utah, has been awarded the 2013 Ralph Garfield Schell Excellence in Ministry Award. Please click here for the full story.
---

Belinda Thomas (2006), is co-founder of Reach Fellowship International Church, located in Richmond, CA. The church was one of the non-profits featured on the August 18 broadcast of "Secret Millionaire." The mission of Reach International is to provide women with counseling, job training, health education, and health care access assistance. Belinda is a registered nurse as well as an ordained senior pastor of a community church in Berkeley, CA. Reach received a substantial gift from Debbie Johnston, founder of Care Advantage, Inc., who was the secret millionaire impressed by the mission of Reach.
---
2013 Alumna of the Year Award
Presented to
The Reverend Florence Li


In 1981, the Alumni/ae Association of the American Baptist Seminary of the West began a tradition of honoring one of its own who shows excellence in ministry and support of the seminary. It is our privilege to name the Reverend Florence Li as Alumna of the Year for 2013.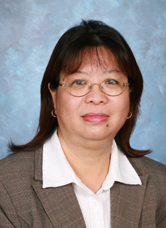 Florence graduated from the American Baptist Seminary of the West in 1985 and was ordained into Christian ministry in 1987. Since accepting her call to ministry, Florence has served as youth leader, pastor, public mission advocate, author, and speaker. She was the commencement speaker for ABSW in 2004.

Florence joined the American Baptist Home Mission Societies in 2004 as the National Coordinator for Intercultural Ministries, Asian Churches Strategist. In this role, Florence works with the Intercultural Ministries Team to strengthen Asian church ministries, empower leadership and build relationships with the larger American Baptist family. She also serves on the Discipleship/Transformation Team to identify and encourage emerging leaders for ministry. Florence is a strong proponent for providing the necessary education to meet the demands of diverse ministries.

As a member of the national staff of the American Baptist Churches, USA, Florence has demonstrated her desire to serve people of diverse cultures and does so with compassion, grace, and integrity. In her words, "As national staff, I want to listen to concerns and lend support to pastors of churches. All of our conferences and activities come back to looking at the vision: serving Christ."

Florence was born in Hong Kong and came to the United States in 1973. In addition to her Master of Divinity, she holds a Master of Social Work Administration from Hunter College, New York, NY, and a bachelor's degree in Social Work from Ottawa University, Ottawa, KS.

We are pleased to honor the Reverend Florence Li as this year's Alumna of the Year.
Pictured are ABSW alumni standing in acknowledgement and support as Rev. Florence Li receives the award at the Alliance of Asian American Baptist Churches dinner on July 21, in Overland Park, KS. Pictured from left to right: Rev. Dr. Donald Ng (DDiv, 2013), Rev. Amelia Chua (MDiv, 1986), Rev. Lauren Ng (MDiv, 2005), Woun Kim (MDiv, 2008), Rev. Karen Yee (MDiv, 1997), Rev. Florence Li (MDiv, 1985), Rev. Marie Onwubuariri (MDiv, 2004)